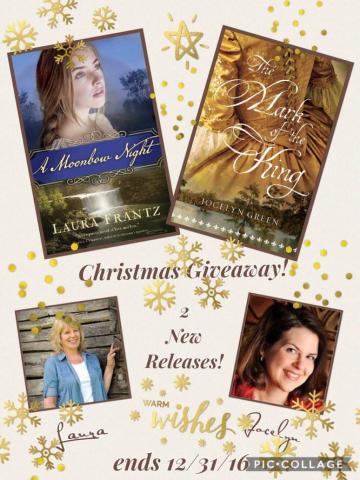 I'm so delighted to share a release date with one of my favorite authors, Laura Frantz, whose book A Moonbow Night launches on January 3 right alongside The Mark of the King! To celebrate the "birthday" of both our eighteenth-century-set books, we are teaming up to give one lucky winner a set of both new releases! (Details on how to enter at the end of this post.)
Here's the blurb for A Moonbow Night:
Her wilderness survival skills are without rival. 
But her greatest talent is keeping other people's secrets.

After fleeing Virginia, Temperance Tucker and her family established an inn along the Shawnee River. It's a welcome way station for settlers and frontiersmen traveling through the wild Cumberland region of Kentucke--men like Sion Morgan, a Virginia surveyor who arrives at the inn with his crew, looking for an experienced guide. 

Though he balks when Tempe is appointed to lead his team through the wilderness, it isn't long before Sion must admit that her abilities may outmatch his own. But can the tenuous tie they are forming survive the dangers waiting just around the bend?

With her signature sweeping style and ability to bring the distant past to vivid life, Laura Frantz beckons you to join her in a land of Indian ambushes, conflicting loyalties, and a tentative love that meanders like a cool mountain stream.
And the blurb for The Mark of the King:
Life in This New World Requires More Strength Than She Ever Imagined

After the death of her client, midwife Julianne Chevalier is imprisoned and branded, marking her as a criminal beyond redemption. Hoping to reunite with her brother, a soldier, she trades her life sentence for exile to the fledgling French colony of Louisiana. The price of her transport, however, is a forced marriage to a fellow convict. 

New Orleans is nothing like Julianne expects. The settlement is steeped in mud and mosquitoes, and there is no news of her brother, Benjamin. When tragedy strikes, she turns to military officer Marc-Paul Girard for help, but does he know more about her brother than he will admit? 

With her dreams shattered, Julianne must find her way in this dangerous land, where only grace--and love--can overcome the stigma of the king's mark upon her shoulder.
Now, if you're already familiar with Laura Frantz and love her writing, the good news is that RT Reviews says you'll love The Mark of the King too! :)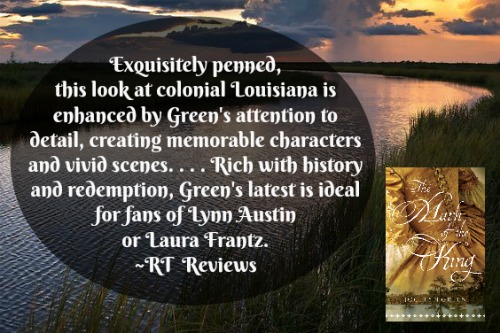 What an honor! Some books just immerse the reader in the setting, and I think Laura's novels are all excellent examples of that. What is it about a book that makes you feel like you are "right there" with the characters? Leave a comment answering the question, and you'll be entered in the drawing! You may enter by commenting either here, or on Laura's blog. Your entry will be counted either way!
*Enter by the end of Dec. 31. The winner will be announced on release day, January 3!
Bonus: Free Gift within Moments!
Psst! If you're new around here, welcome! I'm so glad you've stopped by. Did you know that when you subscribe to my e-newslsetter, you'll receive a FREE Christian Historical Fiction Travel Guide? Plus, you'll be part of an exclusive mailing list that is the first to hear about new book releases. It's only mailed one to three times a year, depending on how many books I have coming out. Ready to subscribe and receive your free gift? Do it here. Thank you! (You'll get the link free link once you confirm from your email inbox that you really want to subscribe.)