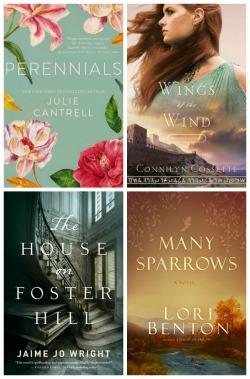 Hello friends! We are inching ever closer to the moment I can share the cover reveal for my next Bethany House novel, A Refuge Assured! Just like last time, my e-newsletter subscribers will get the first peek before I share it on my Web site and social media. (If you're not subscribed yet, now's a good time to do so here! You'll get a free gift, too.)
In the meantime, I'd love to share with you ten book covers that have caught my eye recently. These are for new or upcoming releases, and I'm linking each title to it's page on Goodreads so you can add them to your "Want to Read" pile. :) Honestly, there have been far more than these that have intrigued me, but then this post would be too long to be manageable. So without further ado, and in order of release date:
Released May 2017
This cover is so dramatic to me. Love the wind-swept hair, the clouds, and the script at the bottom. My favorite in her three-book series!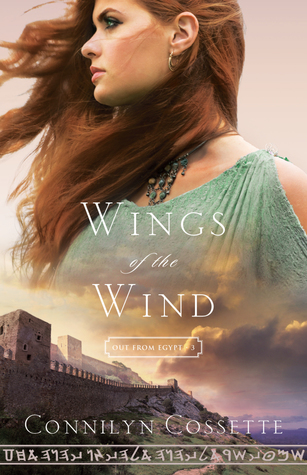 Alanah, a Canaanite, is no stranger to fighting and survival. When her family is killed in battle with the Hebrews, she disguises herself and sneaks onto the battlefield to avenge her family. The one thing she never counted on was surviving.
Tobiah, a Hebrew warrior, is shocked to find an unconscious, wounded woman among the Canaanite casualties. Compelled to bring her to a Hebrew healer back at their camp, he is soon confronted with a truth he can't ignore: the only way to protect this enemy is to marry her.
Unused to being weak and vulnerable, Alanah submits to the marriage—for now. As she comes to know and respect Tobiah and his people, however, she begins to second-guess her plans of escape. But when her past has painfully unanticipated consequences, the tentative peace she's found with Tobiah, the Hebrews, and Yahweh is shaken to the core. Can Alanah's fierce heart and strength withstand the ensuing threats to her life and all she's come to love?
Releases June 6, 2017
I adore the vintage look and feel of this book cover! So unique and refreshing. Definitely a standout as it hearkens back to the early days of our great national parks.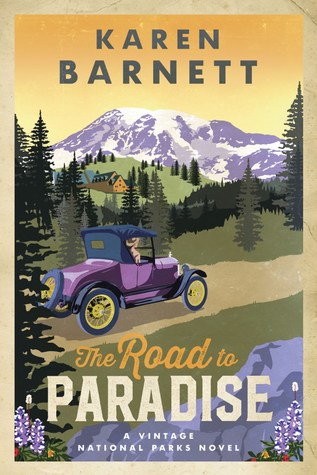 In 1927, Margie Lane, an avid naturalist, convinces her Senator father to procure her a position at the fledgling Mount Rainier National Park. Since Ranger Ford Brannon lost his father in a climbing accident, he doubts his ability to protect the park and its many visitors. He certainly doesn't relish the job of watching over an idealistic and privileged young woman with no practical survival skills. 
When Margie's former fiance sets his mind on developing the Paradise Inn and its surroundings into a tourist playground, Margie and Ford will have to work together to preserve the beauty and simplicity of this mountain hideaway, but the developer's plans might put more than just the park in danger.
Releases June 6, 2017
I'm naturally drawn to orphan train books anyway, since the orphan train visited my own town way back in the day, and I used it as a plot element in my novel Yankee in Atlanta. I love the dress on Jody's cover, and the train carries great movement and drama.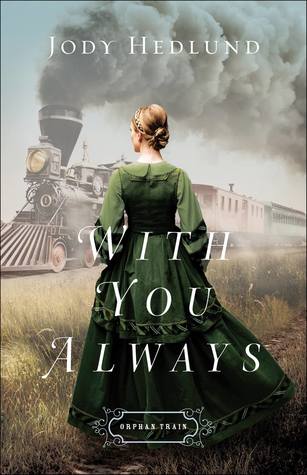 When a financial crisis in 1850s New York leaves three orphaned sisters nearly destitute, the oldest, Elise Neumann, knows she must take action. She's had experience as a seamstress, and the New York Children's Aid Society has established a special service: placing out seamstresses and trade girls. Even though Elise doesn't want to leave her sisters for a job in Illinois, she realizes this may be their last chance. 
The son of one of New York City's wealthiest entrepreneurs, Thornton Quincy faces a dilemma. His father is dying, and in order to decide which of his sons will inherit everything, he is requiring them to do two things in six months: build a sustainable town along the Illinois Central Railroad, and get married. Thornton is tired of standing in his twin brother's shadow and is determined to win his father's challenge. He doesn't plan on meeting a feisty young woman on his way west, though.
Releases June 6, 2017
This cover has such a glamorous, period feel about it, doesn't it? Pearls and fighter airplanes... I'm a sucker for war-era books, and this is a beautiful one!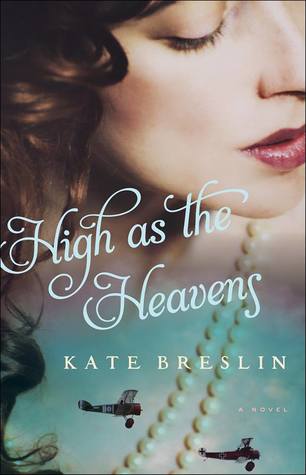 In 1917, Evelyn Marche is just one of many women who has been widowed by the war. A British nurse trapped in German-occupied Brussels, she spends her days working at a hospital and her nights as a waitress in her aunt and uncle's café. Eve also has a carefully guarded secret keeping her in constant danger: She's a spy working for a Belgian resistance group in league with the British Secret Service. 
When a British plane crashes in Brussels Park, Eve is the first to reach the downed plane and is shocked to discover she recognizes the badly injured pilot. British RFC Captain Simon Forrester is now a prisoner of war, and Eve knows he could be shot as a spy at any time. She risks her own life to hide him from the Germans, but as the danger mounts and the secrets between them grow, their chance of survival looks grim. And even if they do make it out alive, the truth of what lies between them may be more than any love can overcome.
Releases July 4, 2017
What book lover would not love a cover featuring books? Can't go wrong there!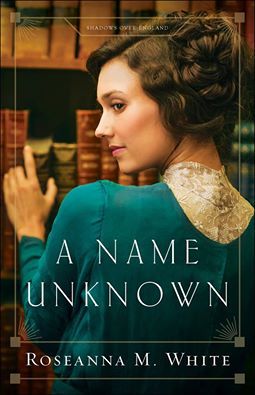 Rosemary Gresham has no family beyond the band of former urchins that helped her survive as a girl in the mean streets of London. Grown now, they concentrate on stealing high-value items and have learned how to blend into upper-class society. But when Rosemary must determine whether a certain wealthy gentleman is loyal to Britain or to Germany, she is in for the challenge of a lifetime. How does one steal a family's history, their very name?
Peter Holstein, given his family's German blood, writes his popular series of adventure novels under a pen name. With European politics boiling and his own neighbors suspicious of him, Peter debates whether it might be best to change his name for good. When Rosemary shows up at his door pretending to be a historian and offering to help him trace his family history, his question might be answered. 
But as the two work together and Rosemary sees his gracious reaction to his neighbors' scornful attacks, she wonders if her assignment is going down the wrong path. Is it too late to help him prove that he's more than his name? 
Releases August 3, 2017
Love the toile and the live oaks, and the subhead tells us this is a Natchez Trace novel, which appeals to me since I researched both Natchez (the settlement) and the Trace while working on The Mark of the King.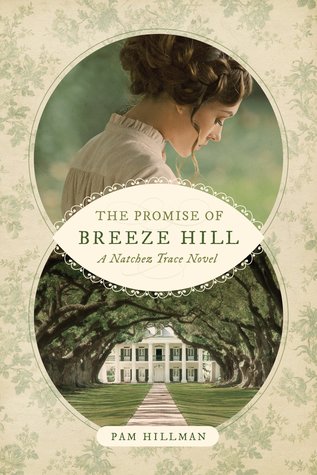 Natchez, MS; 1791
Anxious for his brothers to join him on the rugged frontier along the Mississippi River, Connor O'Shea has no choice but to indenture himself as a carpenter in exchange for their passage from Ireland. But when he's sold to Isabella Bartholomew of Breeze Hill Plantation, Connor fears he'll repeat past mistakes and vows not to be tempted by the lovely lady.
The responsibilities of running Breeze Hill have fallen on Isabella's shoulders after her brother was found dead in the swamps along the Natchez Trace and a suspicious fire devastated their crops, almost destroyed their home, and left her father seriously injured. Even with Connor's help, Isabella fears she'll lose her family's plantation. Despite her growing feelings for the handsome Irish carpenter, she seriously considers accepting her wealthy and influential neighbor's proposal of marriage.
Releases September 2017
My jaw dropped when I saw this one. It has such a literary feel to it, I absolutely adore it. It also reminds me of the setting for A Refuge Assured!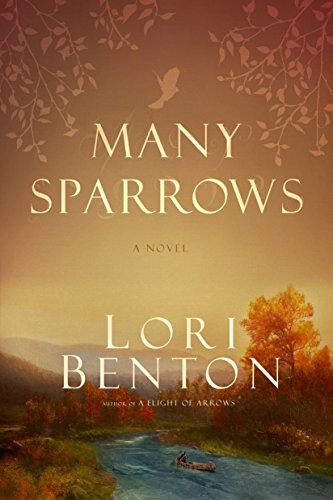 When settler Clare Inglesby is widowed on a mountain crossing and her young son, Jacob, captured by Shawnees, she'll do everything in her power to get him back, including cross the Ohio River and march straight into the presence of her enemies deep in Indian country. Frontiersman and adopted Shawnee, Jeremiah Ring, promises to guide Clare through the wilderness and help her recover Jacob.
Once they reach the Shawnees and discover Jeremiah's own Shawnee sister, Rain Crow, has taken
custody of Jacob--renaming him Many Sparrows--keeping his promise becomes far more complicated, the consequences more wrenching, than Jeremiah could have foreseen.
Releases September 2017
This one's so different from what we usually see, isn't it? The white space puts all the focus on the title, which contains the word "words," and as a lover of words, I'm intrigued enough to read the synopsis. Sounds fascinating!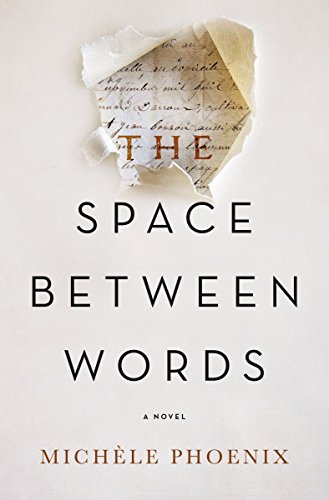 When Jessica regains consciousness in a French hospital on the day after the Paris attacks, all she can think of is fleeing the site of the horror she survived. But Patrick, the steadfast friend who hasn't left her side, urges her to reconsider her decision. Worn down by his insistence, she reluctantly agrees to follow through with the trip they'd planned before the tragedy.
"The pages found you," Patrick whispered.
"Now you need to figure out what they're trying to say."
During a stop at a country flea market, Jessica finds a faded document concealed in an antique. As new friends help her to translate the archaic French, they uncover the story of Adeline Baillard, a young woman who lived centuries before--her faith condemned, her life endangered, her community decimated by the Huguenot persecution.
"I write for our descendants, for those who will not understand the cost of our survival."
Determined to learn the Baillard family's fate, Jessica retraces their flight from France to England, spurred on by a need she doesn't understand.
Could this stranger who lived three hundred years before hold the key to Jessica's survival?
Releases November 2017
I love the vintage botanical prints look of this cover! So pretty.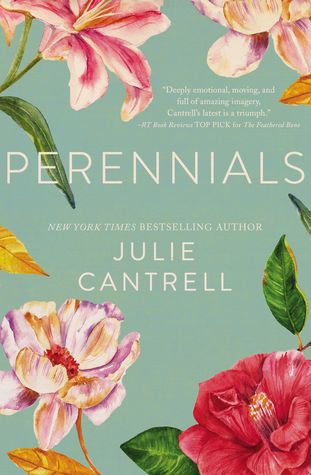 When two estranged sisters reunite for their parents' 50th anniversary, a family tragedy brings unexpected lessons of hope and healing amid the flowers of their mother's perennial garden.
Eva—known to all as Lovey—grew up in Oxford, MS, surrounded by literary history and her mother's stunning perennial gardens. But a garden shed fire and the burns suffered by one of her best friends seemed to change everything. Her older sister Bitsy blamed her for the fire—and no one spoke up on her behalf. Bitsy the cheerleader, Bitsy the homecoming queen, Bitsy married to a wealthy investor. And all the while, Lovey blamed for everything that goes wrong.
At eighteen, Lovey turns down a marriage proposal, flees from Oxford and the expectations of attending Ole Miss, and instead goes to Arizona—the farthest thing from the South she can imagine. She becomes a successful advertising executive, a weekend yoga instructor, and seems to have it all together. But she's alone. And on her 45th birthday, she can't help but wonder what's wrong.
When she gets a call from her father—still known to everyone as Chief from his Ole Miss football days—insisting that she come home three weeks early for her parents' 50th wedding anniversary celebration, she's at wits end. She's about to close the biggest contract of her career, the one that will secure her financial goals and set her up for retirement. But his words, "Family First," hit too close to home. Is there hope for her estranged relationship with Bitsy after all this time?
Eva's journey home, to the memory garden her father has planned as an anniversary surprise for her mother, becomes one of discovering roots, and truth, and love, and what living perennially in spite of disappointments and tragedy really means. Eva thought she wanted to leave her family and the South far behind . . . but she's realizing she hasn't truly been herself the whole time she's been gone.
Releases December 2017
This cover is so evocative! Eerie! Full of stories! I love the play of light and shadow and the huge footprint the title has. Just nailed it on this one.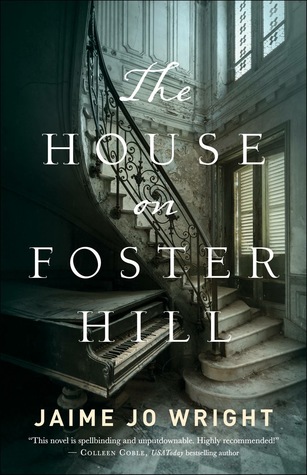 Kaine Prescott is no stranger to death. When her husband died two years ago, her pleas for further investigation into his suspicious death fell on deaf ears. In desperate need of a fresh start, Kaine purchases an old house sight unseen in her grandfather's Wisconsin hometown. But one look at the eerie, abandoned house immediately leaves her questioning her rash decision. And when the house's dark history comes back with a vengeance, Kaine is forced to face the terrifying realization she has nowhere left to hide. 
A century earlier, the house on Foster Hill holds nothing but painful memories for Ivy Thorpe. When an unidentified woman is found dead on the property, Ivy is compelled to discover her identity. Ivy's search leads her into dangerous waters and, even as she works together with a man from her past, can she unravel the mystery before any other lives--
including her own--are lost?
So friends, which ones caught your eye? What other book covers have you seen and enjoyed lately?