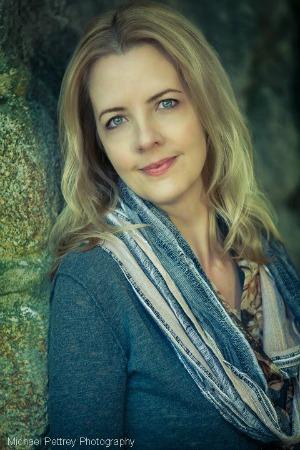 It's my great pleasure to have author Lori Benton here today! Lori was raised east of the Appalachian Mountains, surrounded by early American history going back three hundred years. Her novels transport readers to the eighteenth century, where she brings to life the Colonial and early Federal periods of American history. When she isn't writing, reading, or researching, Lori enjoys exploring and photographing the Oregon wilderness with her husband. She is the author of Burning Sky, recipient of three Christy Awards, The Pursuit of Tamsen Littlejohn; Christy nominee The Wood's Edge; A Flight of Arrows; and Many Sparrows.
*Please note: Since Lori hails from Oregon, this is a great reminder to us to keep praying for the fires in the Northwest to be contained, and for all the communities affected, from residents to wildlife to first responders. Thank you!
Before we get to her interview, here is the blurb for her new release, Many Sparrows:
When settler Clare Inglesby is widowed on a mountain crossing and her young son, Jacob, captured by Shawnees, she'll do everything in her power to get him back, including cross the Ohio River and march straight into the presence of her enemies deep in Indian country. Frontiersman and adopted Shawnee, Jeremiah Ring, promises to guide Clare through the wilderness and help her recover Jacob. Once they reach the Shawnees and discover Jeremiah's own Shawnee sister, Rain Crow, has taken custody of Jacob--renaming him Many Sparrows--keeping his promise becomes far more complicated, the consequences more wrenching, than Jeremiah could have foreseen.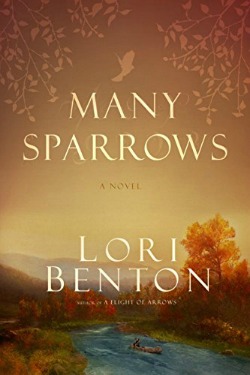 I had the privilege of reading an early copy, and here's my take on the novel: 
Stunning. Many Sparrows is everything I want in a book: settings that spring to life, characters I love, rich historical context, heart-wrenching drama, timeless spiritual insights, and prose that reads like poetry. Lori Benton handles the conflicted eighteenth-century with sensitivity in this tender tale of hope and fear, faith and doubt, of loss and new life. Truly, an inspired masterpiece sure to stir the soul.
(Psst! You can read the first two chapters here!)
My chat with Lori is below.
Give us a glimpse into your research process. Is there any aspect of it which may surprise your readers? 
LORI: I think readers would likely find my research more mundane than surprising. It consists mainly of pouring through stacks of books, taking notes, and creating a historical timeline when necessary. For Many Sparrows that timeline was crucial. It ended up being about 30 pages long, single-spaced, but it kept me from a lot of hair-pulling and rewriting/replotting as I worked to weave my characters' stories in and out of dozens of historical events that occurred in the summer and autumn of 1774.
That makes a lot of sense, and I operate the same way. A 30-page timeline, though? You have me beat, there! :) I love seeing the photographs you take and share on Facebook! Do you have any of the part of the country where Many Sparrows is set?
LORI: I don't often get to visit the settings of my novels while I'm writing, because I live 3000 miles away in Oregon! But for Many Sparrows I did. I journeyed back east and, together with novelist J. M. Hochstetler, traveled around Ohio, West Virginia, and Pennsylvania, visiting sites we both wanted to research for our historical novels in progress.  
Below is a photo of the area of Ohio where Cornstalk's town and that of his sister, Nonhelema, once stood.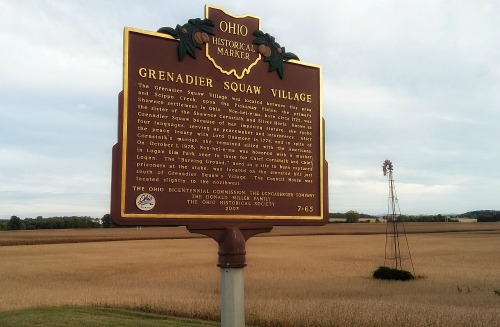 The next photo shows a bend in Scippo Creek that ran between Cornstalk's Town and Nonhelema's Town.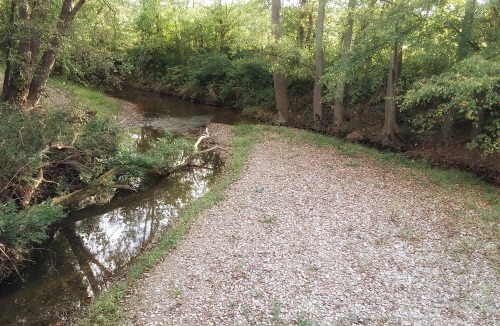 The photo below captures wildflowers growing along Yellow Creek, where it empties into the Ohio River.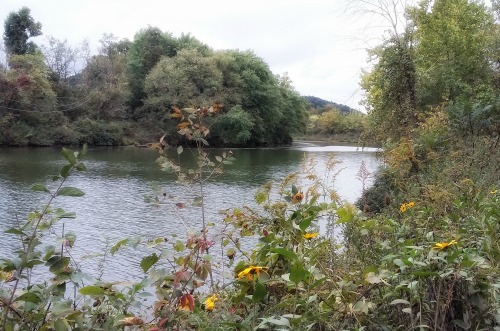 One of the surprises I encountered was our visit to the Point Pleasant battle memorial, on the point of land where the Kanawha River joins the Ohio, in West Virginia. There's a walkway along the Ohio there bordered by a spectacular mural of the history of that area, including the battle that took place in October of 1774, and scenes depicting Shawnee life and culture. Below are some samples of this sprawling mural.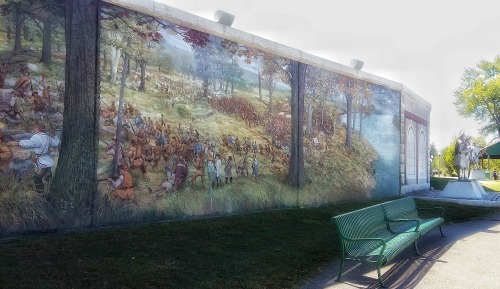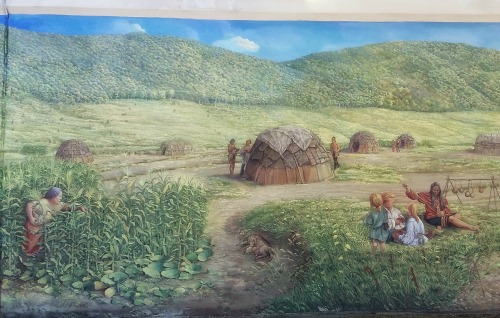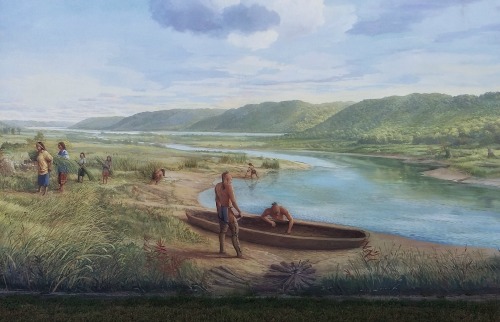 Those photos are fantastic, and I'm delighted you made the trip with J.M Hochstetler! She is another favorite author of mine. If you were to make Many Sparrows into a movie, who would you cast to play the hero and heroine, and why?
LORI: As early as possible in the writing process I like to find a model or actor who resembles my main characters. The choice is important. Something about the actor or model bleeds into who that character becomes on the page for me. I know this because I once switched actors midway through the writing process, when I found someone who looked more like the character than my original choice. Soon after, the character took on new layers and depths. I'm still amazed that happened. Maybe it's like what an actor brings to their role on stage. The character they play is still the character on the page, but it's also a blend of who the actor is. Just like an author pours herself out on the page, so too an actor brings something of herself to each role she plays. Apparently she does so even when she has no idea she's been cast in a role in my story!
For Clare Inglesby I chose Katheryn Winnick. In the roles I've seen her play, Katheryn embodies Clare's strong-willed toughness, as well as the vulnerability that toughness hides. For Jeremiah Ring I'd cast Noah Wylie, as he looked in the series Falling Skies. Bearded! It wasn't until I mentally cast him in the role that I nailed down my best description of him, given to the reader by Clare as they sit by a trail-side fire, early in their acquaintance.
That is fascinating! I loved checking out your Pinterest board for the novel. The visuals are wonderful! I remember when you were in the writing process of Many Sparrows, you called this book your problem child. Can you explain why that was, and how you disciplined this problem child manuscript into shape?
LORI: Oh boy, this book was so much harder to write than I expected it would be. For the longest time I simply couldn't connect to my main character, Clare. I couldn't get to the heart of what made her tick. I kept halting the writing process to mull her over, brainstorm ideas, trying anything I could to figure her out.
Two things helped. As I mentioned above, she's the characters I "recast" midway through the writing process. When I did, I began to get a better sense of why she was struggling so in her issues of trust and surrender.
The second thing that helped me understand Clare was giving her nemesis, Rain Crow, more attention. When I stopped the writing process to really delve into this Shawnee woman's back story, and figure out what her motivations and needs were, certain aspects of Clare's deepest longings came into sharper focus.
Writing is a mysterious process and no two books have come together for me in exactly the same way. Sometimes you have to keep trying this and that until you find what works. In that way they are like children!
Other than that, this book got written on the wings of many prayers, my own and others. I know the Lord stepped in and helped, as He always does. I couldn't write a novel without Him. My inadequacies are a bottomless well. But so is His grace, mercy, and help in time of need.
I think most of us authors feel exactly the same way, that we are inadequate, but God is faithful to pour into our lack. What are you reading right now? 
LORI: Finding time to read anything not work related is a challenge, but I usually have a book or two going. More if I can find them on audio. Right now I'm reading the latest installment of the Isabel Dalhousie series by Alexander McCall Smith. I recently read The Maggie Bright, a novel of Dunkirk by Tracy Groot (loved it, then went and saw the movie, Dunkirk and knew what was going on). Tracy Groot is one of my favorite authors.
I'm a big fan of Tracy Groot, too! Thank you so much for being here, Lori! 
Many Sparrows is available now at your local bookstore, ChristianBook, Baker Book House, Barnes & Noble, and Amazon. Visit Lori Benton at her Web site here.
The Give-Away
*UPDATE: The give-away is now closed. Congratulations to Diane Bell for winning, and thank you to all who entered!
Lori is generously offering to one lucky commenter (U.S. only), a signed copy of Many Sparrows and the special gift she created to go with this book,  a companion photo book with quotes. It's a hardback book she created with landscape photos interspersed with quotes from Many Sparrows.
To enter, please leave a comment for Lori below, telling her one thing you enjoyed learning from this interview. I'll choose a winner at random on September 20, and notify the winner via email. The winner has three days to respond before I select a different winner.