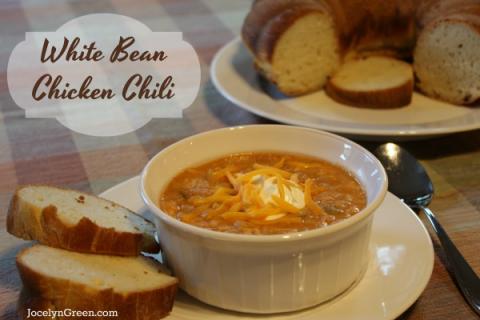 In the next few weeks, I'll be ducking into my writing cave, hammering out a rough draft of the novel that will release in early 2019. That means I'm not going to want to spend much time in the kitchen every day, so I'm "nesting" by cooking up a storm and stuffing my freezer full of meals. One of my go-to meals is White Bean Chicken Chili. I usually cook it in the crockpot one day, save some to have for leftovers the next day, and then ladle the rest into a gallon-size freezer bag to add to my stash. It's easy and delicious! See for yourself:
1 Rotisserie chicken, pulled apart in pieces OR two or three chicken breasts, cooked and shredded
1 14 ½ oz. can chicken broth
1 48 oz. jar of white beans
1 16 oz. jar mild salsa
16 oz. Monterey Jack cheese
2 tsp. cumin.
Mix it all up in a crockpot. Cook 4-6 hours on low. Ta-da! It's even better with a dollop of sour cream on top when you serve it.
*The bread you see in the picture above was baked in a bundt pan. It's called Sally Lunn bread, and comes from an eighteenth-century recipe in the City Tavern cookbook I brought home from my research trip to Philadelphia. If you enjoy cooking, or the eighteenth-century, or both, I highly recommend this beautiful cookbook! Several of the recipes also appear in the fictional Philadelphia tavern in my upcoming novel, A Refuge Assured.