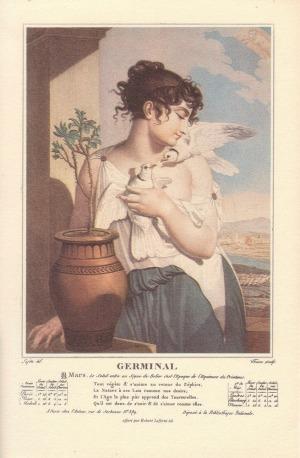 Today I'm hanging up a fresh calendar for 2018. It's pretty basic—12 months, from January to December. Seven-day weeks, each of which begins with Sunday. Christmas is marked on December 25. The year 2018 is dated from the approximate birth of Christ.
After researching the French Revolution and writing A Refuge Assured, I no longer take all this for granted. Here's why.
In October 1793, the revolutionary government declared a new way of ordering their days by replacing the Gregorian calendar with a new Republican calendar. The rise of human reason over religion are obvious in the changes:
They replaced the seven-day week with a ten-day "decade." There was no Sunday in a decade, no day set aside for worship. The churches and cathedrals became temples to reason. Three decades comprised a thirty-day month.
Months were named after seasonal features. (The photo at the top of this page shows the calendar girl painting representing Germinal, Month of Budding.)
Religious holidays and saints' days were also abolished. In fact, each day of the year was renamed after an element of nature, to counter the Catholic calendar's association of days with the names of saints and sacred events. For example, the first three days of the month of Messidor, Month of Harvest, were dedicated to rye, oat, and onion. 
Instead of dating their years from the birth of Christ, they dated them from the birth of the Creation of the French Republic, September 22, 1792. So, even though they began using the republican calendar in 1793, they declared the year preceding it, Year 1.
In A Refuge Assured, I make it clear in the text what time of year it was, even though for a chapter or two, I use the republican calendar in the headings. Below, you'll find the complete list of the republican months.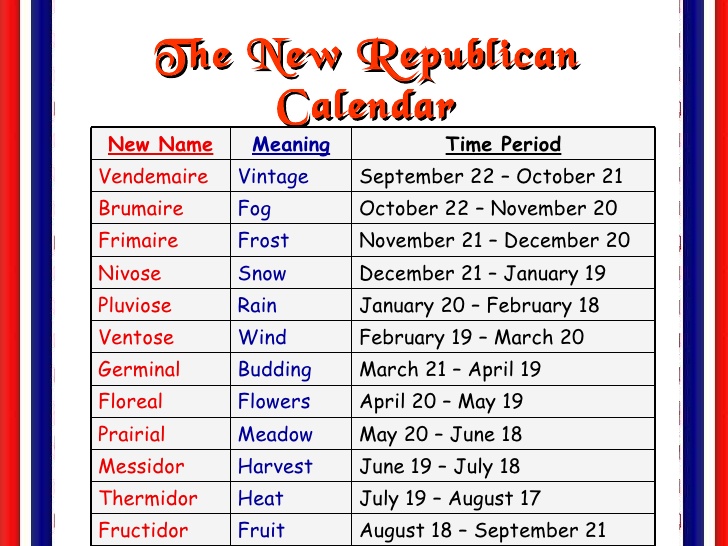 Once my main character Vivienne (Vienne for short) arrives in Philadelphia in A Refuge Assured, we are back to the calendar you and I are familiar with, much to her relief!
The republican calendar, which Napoleon abandoned on Jan. 1, 1806, may seem like mere trivia to us. After all, most of us are Americans, and a couple of centuries separate us from the French Revolution of the late eighteenth-century. But today I am grateful for seven-day weeks, for Sundays, for Christmas and Easter. And I'm grateful that every time I write the year, I'm recognizing the birth of Christ.
Happy New Year everyone!
P.S. Speaking of calendars: February 6 is circled on mine as the release date for A Refuge Assured. If you haven't pre-ordered your copy yet, now is a great time to do it! Find out more about the novel along with purchase links here.