Blog
In honor of Military Family Appreciation Month, today we have with us guest blogger Marshele Carter Waddell. She is an author, speaker, and veteran wife of a Navy SEAL. Her book Hope for the Home Front encouraged me so much as a military bride, and I have been so blessed that she also contributed to several of my own books for milwives! We hope this post blesses you!
I browsed the "marriage and relationship" section of my local Christian bookstore.  My heart was heavy, missing my husband…again.  I tilted my head to read the colorful spines of the latest releases...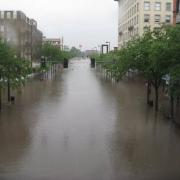 With all the rain we've had around here lately, my eight-year-old has been asking questions. "How much rain does it take to make a flood? Do you remember when the streets became rivers? Can anyone die from a flood? How do I not drown?" Patiently, I answer each one, because I remember very clearly when the river seven blocks from our house flooded so severely that we evacuated our home and headed for higher ground. (Our house was spared, thankfully, but thousands were not.)  
...