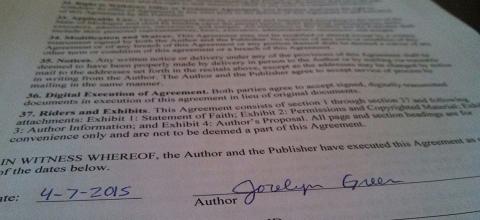 Last week I signed a contract with Kregel Publications, officially ending my nine-month sabbatical from deadlines. (If you're curious about how I filled my non-writing season, see my top 20 here.) This new project is one that is very close to my heart. It's a devotional book for parents of children with special needs, and I'm co-authoring it with my dear friend Kimberly Drew. Allow me to introduce you.
About Kimberly
Kimberly and I attended Taylor University together, where we were Resident Assistants in the same resident hall. She and her college sweetheart, Ryan, have been married since 2000. (I was one of her  bridesmaids!) The Drews live in New Jersey with their three children, Abigail, Jayden, and Cooper. They also have a son Jackson who is waiting for them in heaven. Kimberly developed a labored passion for children and parents of children with special needs after their daughter Abigail suffered a traumatic birth which resulted in multiple disabilities including Cerebral Palsy, a seizure disorder, hearing loss, and microcephaly. From these experiences, and a heart to see and know Christ more, came the desire to help other parents grow in their Christian walk through their own experience raising a child with special needs. Kimberly has served the last fifteen years as a pastor's wife and mentor to teenage girls. She blogs at Promises and Perspective, and at www.differentdream.com, the Web site of author Jolene Philo.
Why this project?
Those of you who know me well know I've co-authored four devotional books so far. They were all for military, since, as a military wife, I felt a desperate need for spiritual encouragement. I believe parents of children with special needs share that need as well. My son was born with hypothyroidism six years ago. His medication is keeping symptoms at bay, but when I was told my baby was born with a disease that causes profound retardation and dwarfism, my world was rocked. It opened my eyes to an alternate possibility for our family, and though we are fortunate that he is developing normally with his medicine, my heart is still tender to the trials of families with special needs. Kimberly will be sharing from her own heart and experiences in this book, and I'll be sharing insights based on conversations I'll be having with many other parents whose children have a variety of challenges. We are both so grateful for this opportunity.