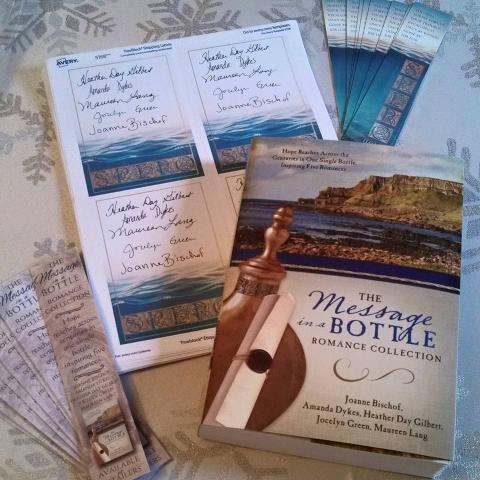 Thank you so much to all who participated in our Blog Hop Give-aways for The Message in a Bottle Romance Collection! The winners have been drawn and notified via email. 
My co-authors and I have been blown away by the response to this novella collection. Listen to what just a few readers have been saying:
"Each and every one of these stories is uniquely different and yet perfectly part of a whole; creating absolute pleasure within its pages and utter satisfaction for its readers."
~Rebecca Maney
"Sometimes in novella collections there may be one or two stories that don't quite equal the others. Not so in this one. I found them all to be delightful. If you enjoy historical romance, this is a book for you."
~Pam K.
"These books do not read like short stories. They were just good novels under one cover. I loved each character and felt their heartbeat of love and hope as I read." 
~Brenda Murphree
Thank you to all who have read and reviewed this book! Reviews are so important and helpful for both the book and for potential readers. 
If you have your own copy of the book, I'd love to send you a custom-made bookmark and a bookplate signed by all five of us. I have a limited number to send out, so it's a first-come, first-served basis. All you need to do is email me (jocelyn[at]jocelyngreen[dot]com) with a picture of you and your book, or it could be your book with your pet, or your book in your favorite reading spot. Be sure to let me know if I can share that photo on social media, and please include your mailing address, as well. (Those of you who already sent me these items after receiving my e-newsletter--your goodies are in the mail!)
If you haven't gotten your own copy of the book yet, good news: I just noticed it's 40% off at Amazon, BarnesandNoble, and ChristianBook. (Also consider shopping at your own local bookstore!)
I'll keep this drawing open until the end of April. Thank you, readers!