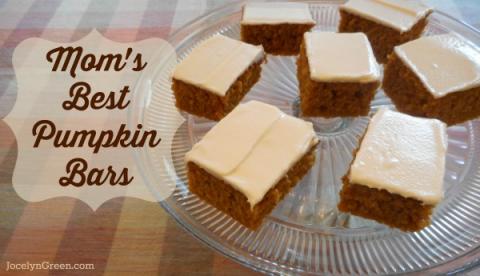 It's pumpkin season! That means there is no reason not to make these delicious bars. This version is an adaptation of three of my mom's pumpkin bar recipes. It's the best from each! You can add raisins and/or walnuts if you like, but since my children are opposed to finding "debris" in their bars, these are simple and still so delicious. This recipe makes a LOT of bars, so it's great to share with others. OR make a pan, frost them, and freeze as many as you want to! I experimented with this, myself, since you all know my love of making food ahead and freezing it. I was going to wait two months to see if the bars were just as good after thawing, but alas, I only lasted one month before I had to eat them again. Yes, they were just as good as when they were fresh. Here you go:
2 cups sugar
1 can (15 oz) solid-pack pumpkin
1 cup vegetable oil
4 eggs
2 cups all-purpose flour
2 teaspoons baking powder
1 teaspoon baking soda
1 teaspoon ground cinnamon
1 teaspoon ground nutmeg
1/2 teaspoon salt
1/8 teaspoon cloves
FROSTING:
1/3 cup butter, softened
1 package (3 oz) cream cheese, softened
1 tablespoon milk
1 teaspoon vanilla extract
1 1/4 cups powdered sugar
In a large mixing bowl, beat sugar, pumpkin, oil and eggs. In a separate bowl, combine the flour, baking powder, baking soda, and all the spices and salt. Gradually add to pumpkin mixture and mix well. Pour into a greased 15 x 10 x 1-inch baking pan. Bake at 350 degrees F for 25-30 minutes or until a toothpick inserted near the center comes out clean. Cool on a wire rack.
For the frosting, combing butter, cream cheese, milk and vanilla in a mixing bowl. Beat until smooth. Gradually beat in powdered sugar. Spread over bars. Store in refrigerator, or freeze.
Enjoy!