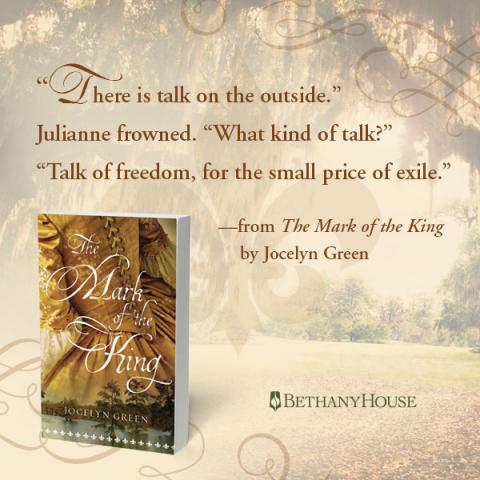 The day has finally come! The Mark of the King is now available at Amazon, ChristianBook, BarnesandNoble, and wherever books are sold, and I couldn't be more excited. Here is the book blurb:
After being imprisoned and branded for the death of her client, twenty-five-year-old midwife Julianne Chevalier trades her life sentence for exile to the fledgling 1720s French colony of Louisiana, where she hopes to be reunited with her brother, serving there as a soldier. To make the journey, though, women must be married, and Julianne is forced to wed a fellow convict.

When they arrive in New Orleans, there is no news of Benjamin, Julianne's brother, and searching for answers proves dangerous. What is behind the mystery, and does military officer Marc-Paul Girard know more than he is letting on?

With her dreams of a new life shattered, Julianne must find her way in this dangerous, rugged land, despite never being able to escape the king's mark on her shoulder that brands her a criminal beyond redemption.
The mark of the king, as referenced in the title, has two meanings. The first is very literal. It's the fleur-de-lys symbol of the French monarchy that was branded on certain criminals during the time the novel takes place, to permanently mark them with judgment. In the novel, this mark plays a big role. But there is a spiritual layer to the phrase, as well. As believers, we serve a higher King than any authority here on earth. Our lives are marked by His grace, no matter how scarred we may have been by judgment from others—whether that judgment was deserved or not. God's grace covers all of it. Grace covers all of us.
For a glimpse of my inspiration and research for the novel, visit my Pinterest board for the novel here. 
Read a free excerpt (prologue and first chapter) here.
If you're curious about the French pronunciation of the character names in the novel, the six-minute guide below will help you out:
The Give-Away
To celebrate the release of The Mark of the King, I am giving away to one lucky winner a gift basket from Cafe de Monde in New Orleans (two mugs, coffee and beignet mix), a set of French soaps, and a pair of silver fleur-de-lys earrings!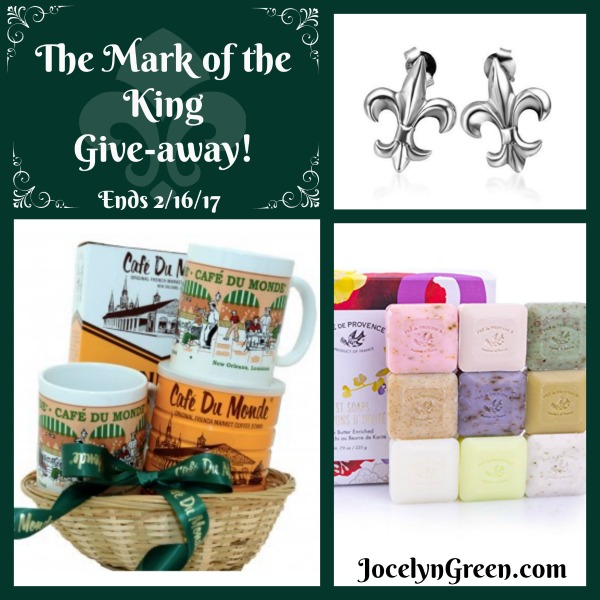 Please use this Rafflecopter form to enter. The drawing opens early the morning of Monday, Jan. 2. Good luck!