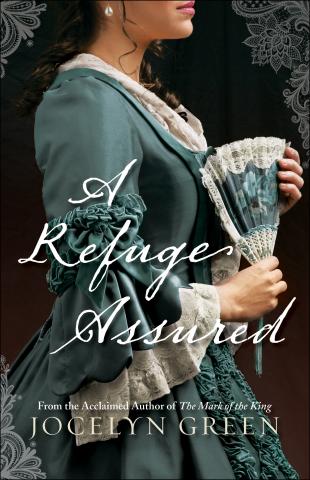 If you follow me on Facebook or Twitter or subscribe to my e-newsletter, you have already heard gobs about my February 2018 release, A Refuge Assured. You know, for instance, that the heroine is a lacemaker (thank you, book cover designers, for adding the lace touches in the corners, and for finding that gown for the model to wear!). 
And if you follow my dear friend and fellow author Laura Frantz, you have probably seen the cover for her January 2018 release, The Lacemaker, as well. (It's gorgeous, and you'll see it again further down in this post!) 
But here's something I bet you didn't know: our heroines are related! 
Laura's story is set in colonial Williamsburg on the eve of the American Revolution. Mine starts in Paris during the French Revolution and quickly moves to Philadelphia in 1794. The connection between the lacemakers was easy to imagine, because lacemaking is typically a tradition passed down from one generation of women to the next. Laura and I had a great time creating a family tree with roots in France, and determining where the branches reached to England before spanning the ocean to America. Our heroines don't interact with each other in either book, but eagle-eyed readers will catch the mention of great-grandmothers they shared in each one.
We hope you enjoy reading the tales of both lacemakers! Below you'll find the back cover copy for each one.
A Refuge Assured
Lacemaker Vivienne Rivard never imagined her craft could threaten her life. Yet in revolutionary France, it is a death sentence when the nobility, and those associated with them, are forced to the guillotine. Vivienne flees to Philadelphia but finds the same dangers lurking in the French Quarter, as revolutionary sympathizers threaten the life of a young boy left in her care, who some suspect to be the Dauphin. Can the French settlement, Azilum, offer permanent refuge?
Militiaman Liam Delaney proudly served in the American Revolution, but now that the new government has imposed an oppressive tax that impacts his family, he barely recognizes the democracy he fought for. He wants only to cultivate the land of his hard-won farm near Azilum, but soon finds himself drawn into the escalating tension of the Whiskey Rebellion. When he meets a beautiful young Frenchwoman recently arrived from Paris, they will be drawn together in surprising ways to fight for the peace and safety for which they long.
Find it at Amazon and Goodreads. 
The Lacemaker
When colonial Williamsburg explodes like a powder keg on the eve of the American Revolution, Lady Elisabeth "Liberty" Lawson is abandoned by her fiance and suspected of being a spy for the hated British. No one comes to her aid save the Patriot Noble Rynallt, a man with formidable enemies of his own. Liberty is left with a terrible choice. Will the Virginia belle turned lacemaker side with the radical revolutionaries, or stay true to her English roots? And at what cost?
Historical romance favorite Laura Frantz is back with a suspenseful story of love, betrayal, and new beginnings. With her meticulous eye for detail and her knack for creating living, breathing characters, Frantz continues to enchant historical fiction readers who long to feel they are a part of the story.
Find it at Amazon, Goodreads, and BarnesandNoble.