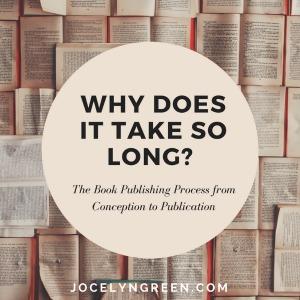 Every once in a while, someone will ask me why, for the love of new releases, does it take so long for my next book to come out? After all, I turned A Refuge Assured into the publisher (the first time) on March 6, 2017. It releases Feb. 6, 2018. Eleven months in between? What gives?
The process varies according to author and publisher, so I will just speak to my own experience, and I'll use A Refuge Assured and the team at Bethany House as an example because it's freshest on my mind. This is how it all went down.
May 2016: I start brainstorming ideas for the next novel with Bethany House. And then I stop, because I have a novella to write that's due to Barbour July 1.
September 2016: I talk to my editors about my plot ideas and start gathering research. Then I stop, because I need to write Free to Lean: Making Peace with Your Lopsided Life for Discovery House that's due the first week of November.
November 2016: Now that Free to Lean is turned in, I start writing A Refuge Assured. 
The process of writing a rough draft isn't glamorous. It's a whole lot of hours with my laptop, surrounded by my research books. Usually I'm wearing flannel pants and cardigan sweaters because I live in Iowa and my second-floor office in our lovely old house is COLD in the winter. (Yes I have a space heater, which helps.)
SIDENOTE: In January, I must divide my time between writing and launching The Mark of the King, which involves lots of guest blogging, mailings to influencers, interviews, and general social media frenzy. Then March 1, it's time to launch The Message in a Bottle Romance Collection. But really, writing needs to remain my top prriority. Even though these don't relate to A Refuge Assured, I'm mentioning them to give you a sense of what many authors experience--we are usually juggling some aspect of more than one project at a time. Writing one book, launching another, editing a different one. (Between Dec. 21 and Feb. 21, I was also working on edits for Free to Lean with my Discovery House editor.)
March 6, 2017: I turn in A Refuge Assured. I don't feel great about it, either, by the way. I even include notes at the end of the manuscript asking my editor questions about plot and characters, and issues I know I need to fix. Ugh. I wanted to turn in something a lot more polished than this.
March 8-15, 2017: My family goes on a spring break trip that includes site visits related to A Refuge Assured, including Philadelphia and the site of the French settlement of Azilum (Asylum in English). I use this trip to fact check my research, knowing that I can make changes to the novel in the coming months of editing as needed. There was just no way to squeeze this trip in between November and now anyway.
The highlight of Philadelphia was City Tavern, a restored eighteenth-century restaurant that's actually part of the Independence Hall National Historic Park. I loved it, because in my novel, the hero's sister owns a tavern in Philly, and there are several scenes set there.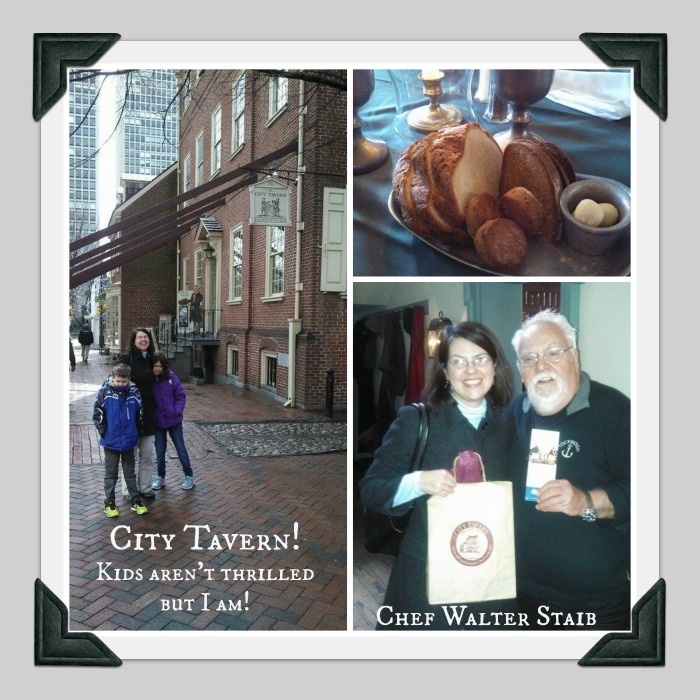 The other major feature of our trip was three hours by car north of Philadelphia: French Azilum. It wasn't open for the season yet, but the board of directors was kind enough to send someone to meet me there anyway. It gave me a sense of atmosphere and place that I couldn't get from reading books and Web sites alone.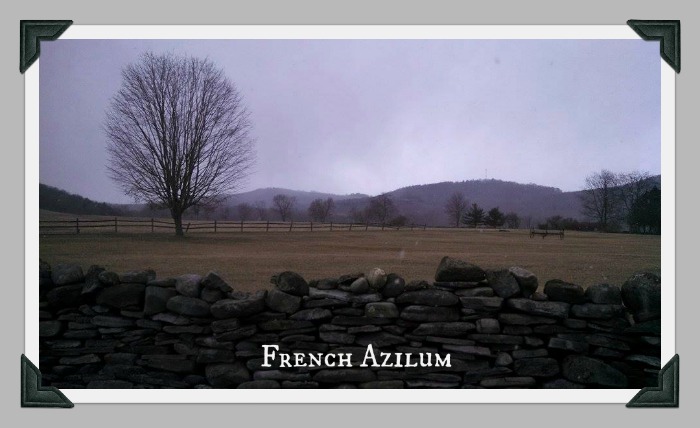 March 21, 2017: Home again, and I get "The Memo." The Memo is the several page document my two editors put together after they've read and discussed my manuscript. It starts off with what they like about it, and then proceeds to describe the areas I need to work on. I also receive my manuscript back, with a few comments in the margins, but at this point we're doing a developmental edit, aka content edit, so the changes are big. A few examples from The Memo:
For more than half the book, we have two separate storylines. They do converge, but we'd like them to link up much sooner.

The parallels between the whiskey rebellion and the French Revolution might need to be stronger or more explicit, perhaps. [The other editor] got it and was fine, but I was left feeling a little confused that characters kept equating them. A way to draw out the parallels in an argument or conversation?

We'd like to increase the threat and sense of danger from the Jacobins, as well as develop the progression of the question of Henri's identity so that it steadily builds rather than goes in circles, which it kind of does right now.
So as you can see, this is pretty big picture stuff. The Memo went on to point out areas in the characters that could use further development. It's all really, really helpful, but there's no quick fix for any of it. That's why they give me two months to make the changes. It sounds like plenty of time, and it is, in fact, quite generous. But it will still be a big push to get it done.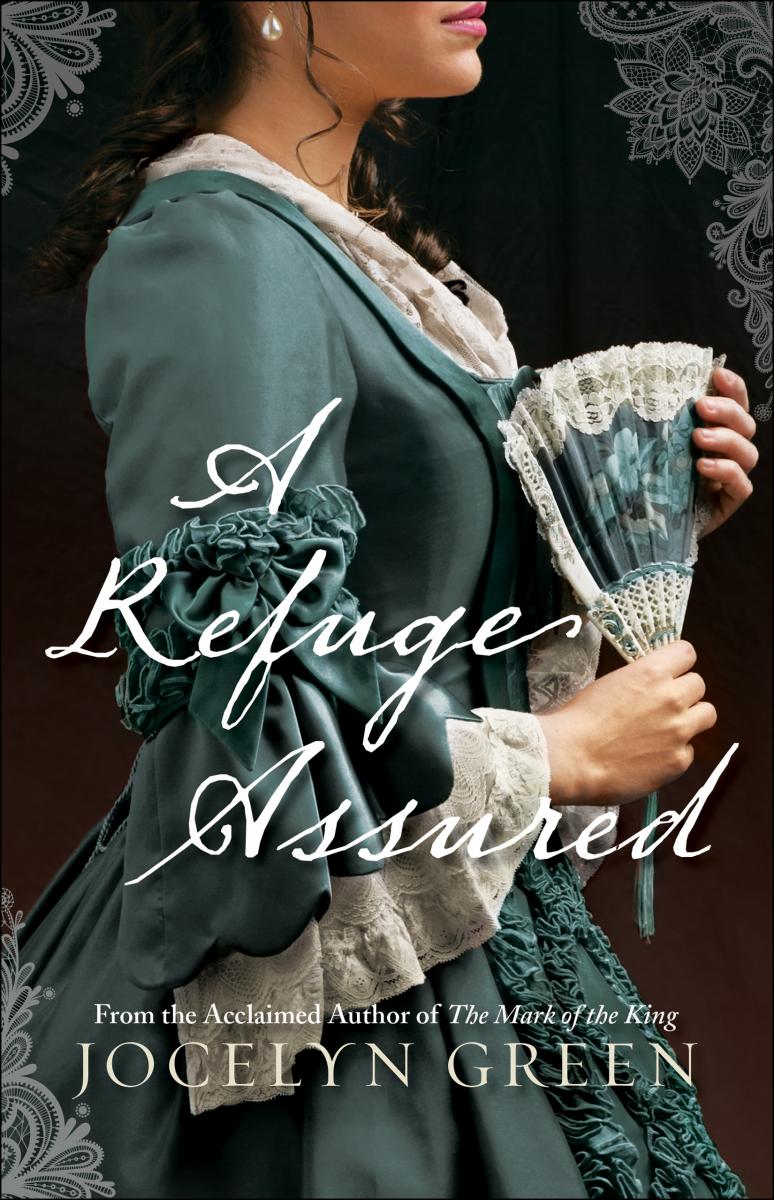 March 24, 2017: Phone call with my editor to go over The Memo and hash out the issues which aren't so easy to resolve over email. Should Finn die? Should he live? What would happen to Liam if he died? If he lives, how can he be a more crucial part of the story? That kind of thing.
Also during the two months I'm working on content edits, I send the novel in chunks to my critique partner since I didn't have time to do that before I turned it in the first time. She points out things that my editors and I didn't notice. For instance, a few character names sounded too similar, so we changed some to avoid potential confusion. And in a few scenes, there were too many characters for the reader to keep track of, so I deleted some. 
May 5, 2017: I get my first look at the cover design for A Refuge Assured. Beautiful work, Bethany House team! (See the cover design process here.) They need the cover finalized this far ahead of release, because in June, the sales team will be pitching the Spring 2018 releases to buyers for bookstores and chains. After the sales conference, the cover goes up on all the online retail sites for pre-order. Meanwhile, I'm still working on edits!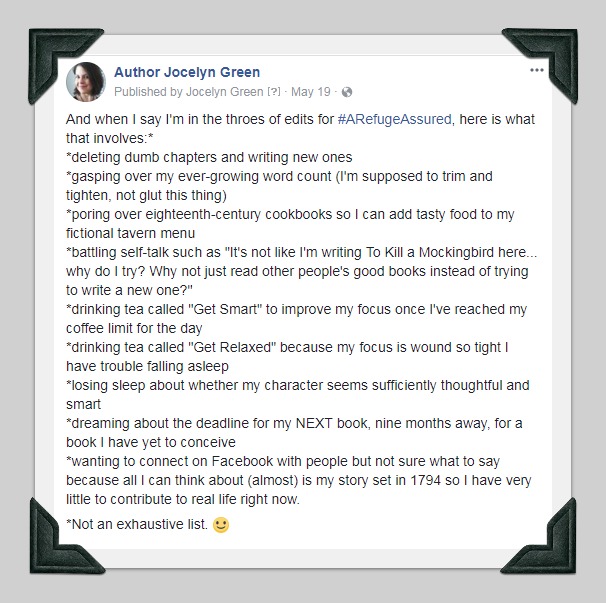 June 3, 2017: I turn in the novel with content edits complete. (I missed my May 31 deadline, BTW. They gave me an extension over the weekend.) 
June 21, 2017: I receive the mansucript back again with line edits and a three-page document of notes from my editor. Line edits mean that now that the big picture stuff is taken care of, she has gone through every line, tightening up and fixing whatever needed it. The separate document of notes, this time, was pretty minor stuff (i.e. my Irish accent for Liam sounded Scottish, so she fixed that throughout) and her thoughtful responses to my flurry of emails over the last two months. I love my editor. She is the best. Her perspective on the book is very reassuring and I feel better about life in general.
[Insert launching activities for Free to Lean during the first part of July here.]
July 31, 2017: I turn in A Refuge Assured again. In addition to responding to all of my editor's requests for revisions, I'd made a list of all the phrases and words I used too much, and worked really hard to swap them out with something else. Apparently, all the men cleared their throats a lot, and the women "inhaled deeply." Ha! Searches for the words eyes, look, gaze, glance, etc. revealed way too much dependence on eyes. So I spent a long time rewriting those beats, and I'm really pleased with the results. Oh, also gave personality tests to my main characters to make sure they were consistent in how they were behaving. #MyersBriggsForever Found a couple spots to adjust. 
At this point, my editor sends the book to the copy editor. The copy editor reads it and makes sure the timeline matches up, that the characters have the same eye and hair color throughout the book, she fact checks my historical references, etc. So, it's a lot more than a spelling and grammar checker.
August 25, 2017: I receive the book in paper form on my doorstep! This stage is called the galleys edit. The book has been printed out entirely, and I have two or three weeks to go over it with a fine-tooth comb to make any changes. I try to read it out loud as much as I can, because my eyes can be lazy and skim, but my ears will pick up on something if it sounds not right. 
I work on it a lot from home, but there are a few distractions...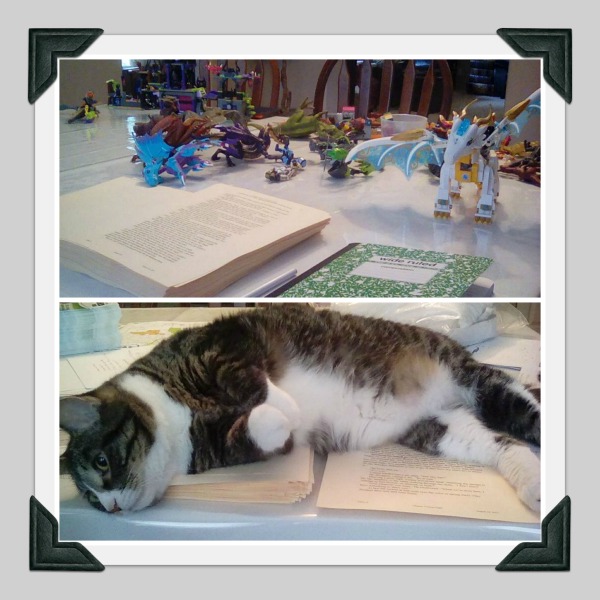 I take the galleys with me wherever I go if I think I'll have time to work on them. Mostly I'm deleting unnecessary adjectives and adverbs, catching a few anachronistic words that had slipped through the cracks, and deleting anything that seems dumb. Pictured below from left to right: My favorite tea place, car dealership for an oil change, doctor's office for my son's check-up, karate class. I will edit here and there, I will edit everywhere! :)
September 5, 2017: I realize I should probably request endorsements for this book! Bethany House tells me they would need endorsements by early October, so that really doesn't leave much time. I humbly petition Laura Frantz and Susan Meissner for endorsements, and they both agree. WHEW. Bethany House prints off new sets of the galleys and ships them out to Laura and Susan pronto.
As it happens, I had the privilege of meeting both of these ladies in person this past summer! So much fun.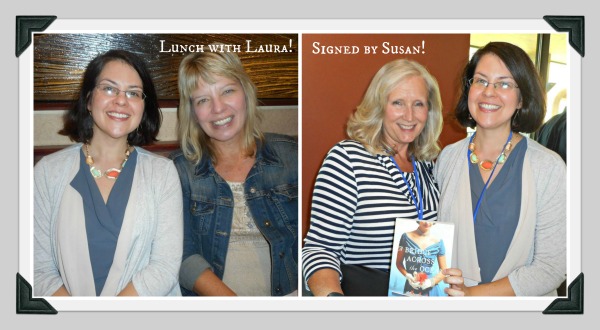 September 28, 2017: All of my changes have been made, and now the interior pages have been designed as well. Bethany House has printed the entire novel again and shipped it to me for final, final changes. This is called the final galleys edit. At this point, I should hardly have anything to mark up. I do find a few things to change, but overall, I am ready to be done reading this book. I am, however, thrilled with how the pages look. The touches of lace and the small lace fans as scene breaks are gorgeous. At the same time I'm reading it, so is a proofreader at Bethany House. Maybe even more than one proofreader. Fresh eyes are a must, and mine are anything but.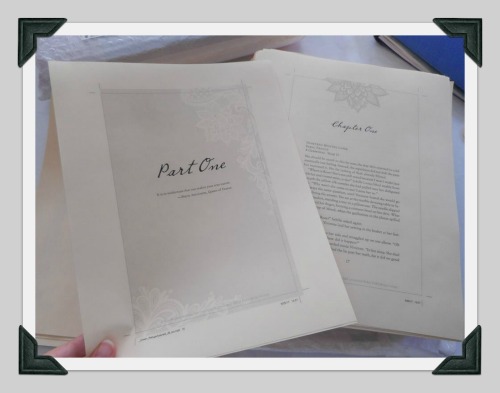 October 6, 2017: I send the final galleys back to Bethany House. Next time I see the book, it will be the finished product, probably sometime in January! By now, the endorsers have sent their lines in, as well. So as far as I'm concerned, I am DONE with the book, at least until closer to the launch.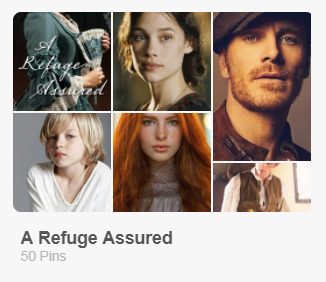 But the team at Bethany House sure isn't. Fiction publicist Amy Green wrote two blogs for Just Commonly from her perspective, which you can read in their entirety here and here. While I'm creating memes and a Pinterest board for A Refuge Assured to prepare for its release, here's what the publisher is doing, according to Amy:
Final changes are made to the text file
Electronic files of text and cover are sent to printer
Electronic files sent for ebook conversion
Printer sends final proofs to publisher for approval
Ebook file is sent to publisher for approval
Book is printed, bound, and shipped to publisher's warehouse
Amy and Noelle, the fiction marketing manager, are really busy behind the scenes while all of this is going on, too. In the spring, they presented the next season of books to the sales team, who then pitched the books to buyers at the sales conference in June. Six to eight months before a release, Noelle works on placing ads and setting up special campaigns, i.e. a book club mailing. Amy pitches the book to trade and consumer magazines, all of which need time to decide if they'll feature or review a book in their publication--and then of course, they'll need time to read it. Amy and Noelle do a lot more than this, but I'll let you read those blog posts I linked to earlier to get the full run-down.
Hopefully this gives you a better understanding of why it takes so long to publish a book. Thanks for reading to the end of this post--even explaining it took a long time! Did anything surprise you?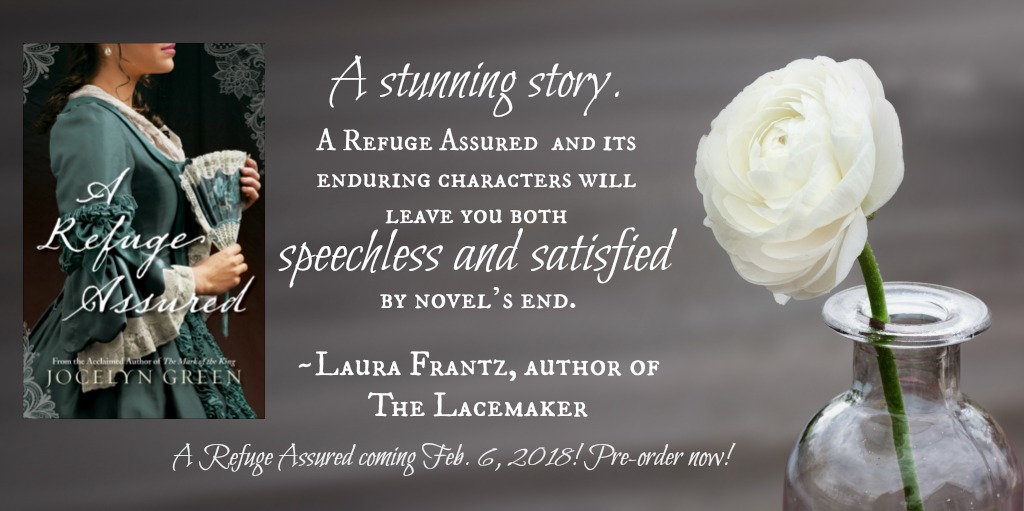 Now, I get to start the process all over again for the next novel!