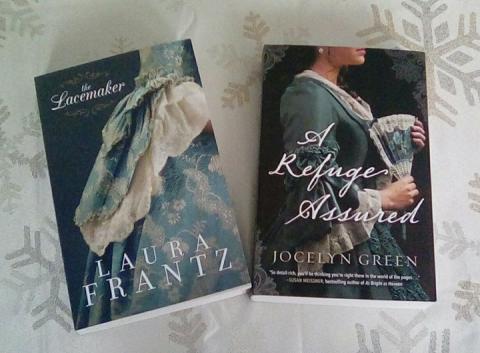 Happy Release Day to my friend and fellow author, Laura Frantz, for her new novel, The Lacemaker! I'm tickled pink that today of all days, I received my copy of my February release, A Refuge Assured, as well. (Don't they look fantastic side-by-side?) The reason I love seeing them together is that our heroines are related! 
Laura's story is set in colonial Williamsburg on the eve of the American Revolution. Mine starts in Paris during the French Revolution and quickly moves to Philadelphia in 1794. The connection between the lacemakers was easy to imagine, because lacemaking is typically a tradition passed down from one generation of women to the next. Laura and I had a great time creating a family tree with roots in France, and determining where the branches reached to England before spanning the ocean to America. Our heroines don't interact with each other in either book, but eagle-eyed readers will catch the mention of great-grandmothers they shared in each one. You can read the books in any order--the family connection has no bearing on either plot. It's all just fun for the two of us authors, and hopefully for readers, too.
We hope you enjoy reading the tales of both lacemakers! I'm reading and loving The Lacemaker right now. Here's the book blurb:
When colonial Williamsburg explodes like a powder keg on the eve of the American Revolution, Lady Elisabeth "Liberty" Lawson is abandoned by her fiance and suspected of being a spy for the hated British. No one comes to her aid save the Patriot Noble Rynallt, a man with formidable enemies of his own. Liberty is left with a terrible choice. Will the Virginia belle turned lacemaker side with the radical revolutionaries, or stay true to her English roots? And at what cost?

Historical romance favorite Laura Frantz is back with a suspenseful story of love, betrayal, and new beginnings. With her meticulous eye for detail and her knack for creating living, breathing characters, Frantz continues to enchant historical fiction readers who long to feel they are a part of the story.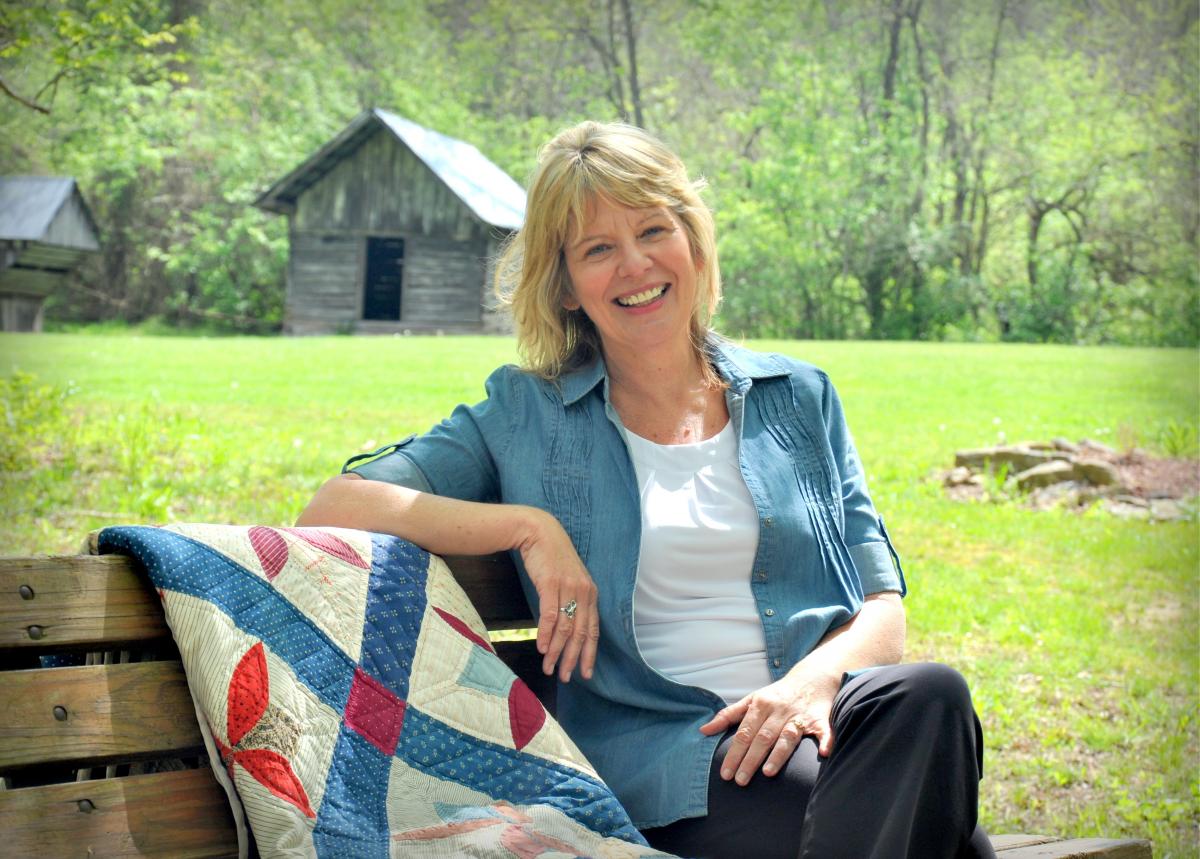 I'm so happy to have Laura on the blog to chat with us! Here goes:
Jocelyn: I love the names of your characters in this book! Liberty and Noble are so full of meaning, and I know you take great care in naming your characters in each novel you write. Can you tell us a little bit about how these two characters fit their names? 
Laura: Love that these names resonate with you! Noble was simple as it so embodies this hero's character though it took me quite a while perusing Welsh records for a surname that felt masculine and handsome enough. I've always liked the name Libby and felt it might be something her hero calls her outside the drawing room when not using the formal Lady Elisabeth. Naming characters can be tricky so I try to be very careful to the time period while not using the standard Marthas and Janes. Recently, I did a major switch in my heroine's name for this next frontier novel. I'd begun using Rosemary but found something else far more unique yet historical that fits her far better. So out the window went Rosemary though I still find it lovely!
Jocelyn: Ooh! Now I can't wait to find out the name you chose instead of Rosemary. (I do love that name, too.) What surprised you the most as you were doing your research for The Lacemaker?
Laura: How far we have come from the handwork of the 18th-century and how different our machine-made lace is today! I'm afraid our 21st-century selves don't have the patience for true lacemaking. Personally, I don't have the patience for such detailed work and would probably have to give up everything to devote myself to making it. But it's truly exquisite and I love the fact that even the humblest women saved for and dreamed about owning even a scrap of lace.
Jocelyn: Oh my goodness, I'm no good with needles, even the one in my sewing machine. I can knit a scarf, and that's about it. If you could choose one truth or theme for readers to hang on to after finishing your novel, what would that be?
Laura: That no matter how our world is upended through disease, divorce, death, change, etc., God is always working for our ultimate good and that circumstances are temporal but He and heaven are eternal. Romans 8:28 is only one of these promises!
Jocelyn: What a timeless and timely reminder. That truth is always in season! Do you have any routines while you write that help get you in the creative mindset? A certain snack or drink, music, a lighted candle or fire in the hearth, time of day, anything like that?
Laura: Funny that you ask as I'm writing this by the fireplace with a candle burning! I do reward myself with a 6 oz. Coke Life made with Stevia most afternoons as I'm trying to get away from diet soda. I used to write to music (The Colonel's Lady  was written to the Master and Commander soundtrack) but haven't done that the past couple of books. Maybe I'll return to that now that you mention it!
Jocelyn: Great soundtrack! I sometimes write to music, too (Braveheart and The Last of the Mohicans among them). What books are on your nightstand right now?
Laura: Yours! You've always been top of my list and I don't exaggerate, Jocelyn. I admire your research and the way you layer a novel to lift it above the common historical to name just a couple of things.  I also collect Joanne Bischof, Lori Benton, Joan Hochstetler, and too many others to mention here. Plus I'm over the moonbow about Amanda Dykes debut with Bethany House coming up. Anything she touches is magical so I'm thrilled for her and future readers!
Heartfelt thanks to you and readers here for your heart for Christian fiction. So blessed by that!
Jocelyn: Thank you, Laura!! And I absolutely agree about every other author you mentioned. I collect books by Joanne, Lori, and Joan, and I'm sure I will with Amanda, too! I was fortunate to be able to write a novella in the same collection as Joanne and Amanda last year, along with Heather Day Gilbert and Maureen Lang! Fantastic writers, all. Thank you for being here today, Laura!
Get to know Laura Frantz at her Web site here. Find The Lacemaker at Amazon(link is external), Goodreads(link is external), and BarnesandNoble(link is external).